09 Sep

Hot Stone Massage
Enjoy a Hot Stone Massage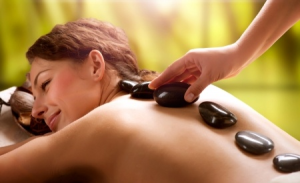 Warm yourself to the core with this wonderful, luxurious offering. Rejuvenating for the mind, body & spirit.
We use the heated stones to massage your muscles. This is a combination of Swedish massage, therapeutic massage and hot stone massage to truly relax the body, and work through any tight, achy or sore areas of the body. We use steam heat for the stones.  Essential oils can be added as well, for aromatherapy.
This full body service is available for both 90 and 120 minutes sessions. The time is only available in these longer sessions to maximize the therapeutic opportunity & end with a relaxation feeling. The therapeutic benefits of this massage are outstanding. The heat allows for the muscles to soften, and become quite workable without pain and the result is increased flexibility and range of motion in any tight areas of the body, freedom in movement, relaxation in the whole body & mind.
Cost for this service is $145.00 for 90 minutes and $180.00 for the 2 Hours session.